These are the steps you must follow to setup your email account in an Iphone Device.
First at all, you will need all your account information data.
That is:
Incoming Mail Server (pop3/impap).
Outgoing Mail Server (smtp).
Email Adress. (The Address you want to set up)
Username (Username or emai address)
Password (You account Password).
Step 1.- Pulsamos en el programa "Ajustes" y dentro de él seleccionamos "Mail, contactos, calendarios".
Step 2.- Pulsamos en añadir cuenta y nos mostrará un asistente de configuración.
Como el correo electrónico a configurar es corporativo elegimos la opción Otros.
Step 3.- Rellenaremos unos datos básicos de la cuenta.
Nombre: El nombre de nuestra cuenta de correo. Es el nombre del remitente que verán los que reciban un correo nuestro.
Dirección: Nuestro correo electrónico por ejemplo email@midominio.com
Descripción: Un descripción para distinguir esta cuenta de otras.
Step 4.- Nos solicitará qué protocolo emplearemos para descargar los correos al teléfono.
Para nuestro caso elegiremos POP.
Step 5.- Servidor de correo entrante. Lo configuraremos con los datos que teníamos anotados.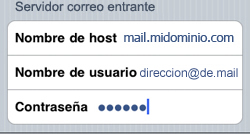 Step 6.- Servidor de correo saliente. Rellenaremos los datos solicitados.
Step 6.- Salvamos los cambios pulsando el botón Guardar.
En ese momento el teléfono hará una comprobación y quizás nos muestre un mensaje como este.
En tal caso pulsamos continuar y el teléfono ya estará configurado.
Ajustes adicionales.
Por último podremos revisar algunas configuraciones adicionales de las cuentas para ello accediendo a la opción Preferencias dentro de Mail.