Configure Mozilla Thunderbird for your e-mail accounts.
To send mails using your e-mail account thought mail server port 587, you need to change the account configuration in your e-mail client software, taking care of the following settings:
Outgoing Server (SMTP) require authentification.
Outgoing Server (SMTP) uses port 587.
Here are the steps to follow in order to change this settings in Mozilla thunderBird:
Mozilla Thunderbird
1- First, open the Account Settings (Tools | Account Settings). Each email or newsgroup account that has already been configured is listed on the left side of the Account Settings dialog. These accounts correspond to the top-level folders displayed in the "All Folders" list.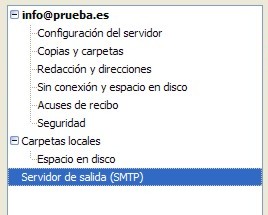 2- Click the Account Actions button and select Add Mail Account.
Enter your email account details and press Continue. Thunderbird will try to determine your account settings based on the domain portion of your email address (that is, the portion after the "@" symbol). Press the Stop button to abort the lookup, then edit the server names, port and IMAP/POP, and then press Manual Configuration to manually set up the the account. Note that it's important that you set server names, port and IMAP/POP before clicking Manual Config. (Alternatively, you can allow the lookup to gather default account details and then manually change the settings later.)
3- Multiple email accounts can use the same outgoing SMTP server. Therefore, SMTP servers are created separately from email accounts. In the Account Settings dialog, in the left pane, select Outgoing Server (SMTP) from the bottom of the list. There may be an entry in the resulting list that was created when you entered your account details. Either edit that entry or add a new entry.
4- Server Name: mail.yourdomainname.com
Port: 587
Use name and Password: checked
5- After saving the information about the new outgoing server, select your new email account from the list. In the Outgoing Server (SMTP) field, select the SMTP server from the drop-down list. Other items on the page were automatically created when you entered the account details - alter and extend as necessary.
Click on the Server Settings option under your new account. Make sure the entries in the following fields correspond to the settings given to you by your email provider:
6- After saving these changes you should be able to send and receive emails. Other aspects of account configuration are optional and self-explanatory.